Framing Control Software overview
Using 8K multipurpose camera "AK-SHB800" and IPU "AK-SHU800", you can capture HD videos from specific 4 positions of an 8K video, along with taking HD high-angle shots.
Framing Control Software is the application software that controls the position etc., of these captured HD videos. Control command is notified to AK-SHU800 by connecting it to personal computer (PC) which is equipped with this application software via Ethernet.
System configuration example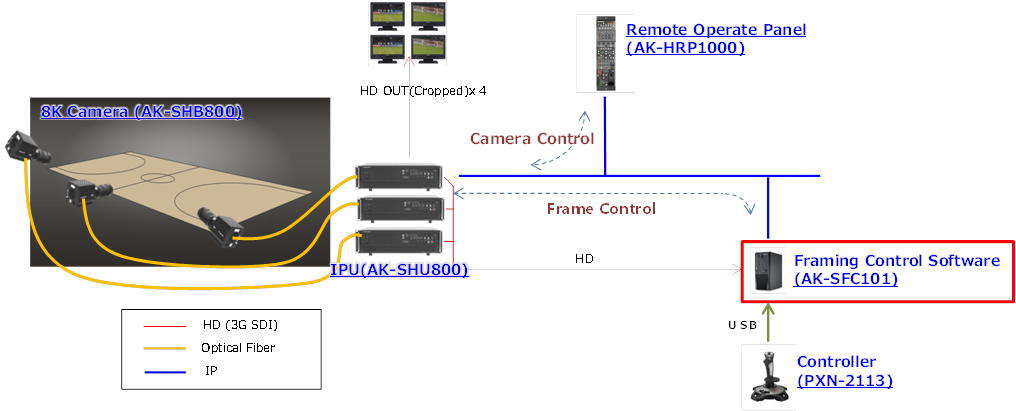 Recommended personal computer configuration
| | |
| --- | --- |
| Personal Computer | HP, Z4G4 |
| CPU | Intel, Xeon W-2102 |
| Memory | DDR4 8GB(2666MHz, ECC, Registered) |
| SDI Capture Board | BlackMagic, DeckLink Duo2 (4 port) or BlackMagic, DeckLink Quad2 (8 port) |
| Graphic Board | NVIDIA, Quadro P400 2GB |
| Operating System | Linux, Ubuntu18.04 LTS |

Focus length and depression angle setting application (Auxiliary tool)
The IPU (AK-SHU800) uses the focus length of the lens and the camera's depression angle information for signal processing when cutting out HD video from 8K video. Usually, focus length and depression angle information is acquired automatically within the IPU, but some lenses cannot acquire focus length automatically.
In this application, you can check and set the focus length and depression angle information used for calculation in the IPU.